Technology advances at a breakneck pace, and its impact is seen all around the globe. Biker communication is crucial, so the motorcycle intercom system was created. You should utilize a suitable intercom system to make your motorcycle communication system better and more convenient.
The intercom makes it much simpler for you to communicate with one another. The most common intercoms used by bikers are Cardo and Sena. It's tough to select between these two since they have distinct distinctions. Choosing the ideal one for your needs and requirements might be challenging.
Once you understand the differences between Cardo vs Sena, making a decision will become simpler. If you are one of those people who is having trouble deciding which of the two is the best, then you should read this article. We have explained the differences and how to choose the best intercom system.
The Cardo PackTalk Edge Headset replaces the highly successful Cardo PackTalk Bold JBL Headset. This newest version of the renowned PackTalk communication system has set the standard for motorcycle intercom systems with new capabilities, including Air Mount and Over-the-Air software upgrades.
Bluetooth intercom has also been upgraded by employing the newest Bluetooth 5.2 technology in addition to the DMC's increased clarity and strength. The auto-reconnect feature eliminates the need to manually re-pair if you ride beyond of range of your group's Bluetooth intercom headset.
The magnetic Air Mount system connects the PackTalk Edge unit to the helmet mount straightforward, quick, and secure manner. Using the Cardo Connect App, you can download and install the most recent software straight to your PackTalk Edge, eliminating the need for any additional cords.
The 50S now has SOUND BY Harman Kardon for even better audio. The speakers and microphone were developed with Harman Kardon audio professionals to provide premium sound for one of Sena's most popular products. Improved Mesh technology ensures a more precise, more stable connection.
The 50S delivers an unrivaled audio experience thanks to expertly built speakers and a brand-new microphone. The new speakers provide better audio quality than any other motorcycle communication device. It has a Mesh intercom talk time of 9 hours and a Bluetooth talk duration of 14 hours.
The speakers provide crystal clear music to the riders' ears, while the microphone, which has a newly built sensor, allows reliable voice communication while riding. Using the four-way Bluetooth intercom mode, it's still possible to communicate with other Sena Bluetooth users within a 1.2-mile range.
The Cardo Freecom 4x is the company's top-of-the-line Bluetooth communication solution. Riders who don't want to spend money on a mesh system will appreciate the improvements from the previous version. The Freecom 4x is much like any other intercom system in installation.
An exciting new function of the Freecom 4x comes into play if the link between units is broken. Riders get an audio indication that the connection has been lost, and the device attempts to reconnect for about three minutes. When a connection is lost, this function automatically reconnects the devices.
While a set of Freecom 4xs may link up to four riders, there are a few restrictions to follow. The communication is daisy-chained since each device can only couple with two other units. There should be four bikers in the middle of the group, with the two single-paired riders at each end.
The 20S EVO is a cutting-edge Bluetooth communication device for motorcycle riders and other power sports enthusiasts. The gadget is stylishly designed and aerodynamic, with a variable jog dial to make it easier for bikers to use. Wireless Bluetooth headset market, Sena 20S EVO has several firsts.
Bluetooth 4.1 technology, which uses dual Bluetooth connection modules, improves headset performance and reliability while improving audio quality. While simultaneously and intelligently managing numerous audio operations, the Audio Multitasking functionality gives the closest audio sound.
Users of the 20S EVO may use their Bluetooth phone to make hands-free calls, listen to stereo music or use voice GPS navigation, and have full-duplex intercom conversations with a passenger or another rider. When the 20S was first released, it was instantly hailed as the best Bluetooth communication device available.
Freecom 2x offers Live Intercom, an auto-reconnecting Bluetooth link for two riders with a live sound like never before, thanks to Sound by JBL and the most up-to-date Bluetooth technology. Added features, including water resistance, jog dial, and wireless software updates, enhance the already outstanding product.
JBL's 40mm high-definition speakers, with a precisely tuned music processor and three separate audio profiles, will make your ride extraordinary. This waterproof FREECOM 2x will withstand everything you throw at it and keep you connected. Rain, sun, muck, dust, or snow are all possibilities.
The Intercom connection between the passenger and the rider or the rider to the rider (range: 0.5 miles/800 meters). The intercom is included in phone capabilities to receive/make/reject calls, fast dial, and conference calls. Auto Volume Control adjusts the volume depending on the ambient noise around you.
At an entry-level price, Sena is now offering to combine communication technology with audio multitasking. The Spider ST1, dedicated entirely to Mesh Intercom technology, has the same mesh performance as the Sena 50 series and is only compatible with other Mesh Technology units.
Up to 24 motorists may be placed in a single group, and you can arrange groups of riders on separate channels. Ease of use is facilitated by Sena's downloaded software, which allows for simple firmware upgrades, pairing, and the basic setup of your new mesh intercom so you can go out and enjoy the ride.
Instead of symbolically passing the microphone around, six riders may chime in simultaneously. The Sena 50 series' HD speakers enable you to listen to music while taking calls or following GPS instructions. The audio fades over the same speakers when you return to your music.
Cardo provides the Spirit HD to riders who want a little more from their Intercom system. A sophisticated processor with three sound profiles controls the HD speakers for a dynamic listening experience. You'll also be able to remain connected in the rain or shine since the device is waterproof.
The Spirit HD also has a built-in FM radio with RDS, automatically selecting the strongest signal available. A range of 600 meters is 200 meters longer than the primary Spirit. For the rider searching for a two-up or rider-to-rider Bluetooth headset, the Cardo Spirit HD Headset is the answer.
Riders will be able to couple their phone with a GPS unit while also connecting to one of the two mobile device channels that will be accessible. Use the built-in FM radio or stream music from a mobile device. Selectable sound settings and 40mm HD speakers give great audio to help change any journey.
The Sena 50C, a long-awaited camera-equipped communication device, has arrived. It belongs to Sena's top-tier 50 series. The 50C has Sena's superior Mesh and Bluetooth connectivity technologies and a 4K camera. The new SOUND BY Harman Kardon speakers and microphone on the 50C.
You can anticipate unrivaled audio and visual experience. Riders can connect on the 50C thanks to mesh and Bluetooth 5.0. Mesh Intercom has upgraded Sena's Mesh algorithm to enable robust, dependable communication. It also has a flexible intercom message routing capability.
The 50C headset has a mile-long intercom range, according to Sena (1.6 kilometers). Thanks to the 50C's built-in camera, you'll never miss a moment. It's possible to see 30fps video or 12MP still images at 4K resolution. In 1080p mode, this camera has electronic picture stabilization at 60fps and 30fps.
Cardo Systems Overview
Cardo is a recognized industry leader in motorcycle wireless communication systems. The business created the first Bluetooth communication technology for motorcycle helmets globally. In 2003, Cardo was one of the first businesses to provide Bluetooth headphones for mobile phones.
Then one of their workers, who rode his motorcycle to work, had a brilliant idea: a mesh network that would enable numerous riders to communicate simultaneously. Since then, Cardo has been a pioneer and developer in the motorcycle communication business, specializing in headsets that fit comfortably into your helmet.
Sena Overview
Sena, who began in 1998, is a year older than Cardo. They are a communications technology business that manufactures excellent motorcycle headsets and produces headsets for various other applications such as industrial noise cancellation and work team intercom systems.
The technical innovation of the motorcycle industry has made them famous in the motorcycle communication field. They are consistently at the forefront of Bluetooth connection and mesh network technology. Therefore they offer a diverse selection of devices to meet various demands and scenarios.
Cardo vs Sena: Everything you need to know
This segment will compare Cardo vs Sena based on various criteria, including installation, technology, design, range, and overall performance.
Installation
An integrated microphone, speakers, and an additional unit make up the Cardo Scala Rider. The Sena pack includes a mesh intercom antenna, speakers, a boom microphone, and a charging or docking station. The entire set is just 2.15 ounces in weight, so it is hardly visible. Both kits are relatively simple to put together.
Sandwich them between the helmet liner and the helmet shell, which takes less than five minutes, and you're done! They're both simple to connect to cell phones, whether Apple or Android. Both systems may run phone apps such as GPS, music, and phone calls.
Mesh Technology
Cardo and Sena, especially for motorcycles, are industry leaders in communications technology. Apart from bikes, Sena is a broader company with R&D in various product areas. As a result, they've had more significant breakthroughs.
Dynamic Mesh Communication by Cardo: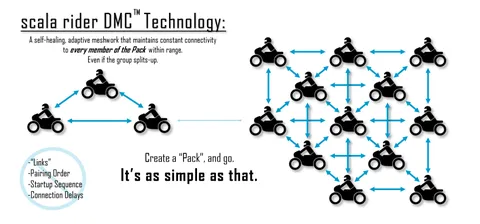 DMC makes it possible for motorcycle clubs to unite and build a network. It's also possible to disconnect from the rest of the group. Aside from that, one cyclist loses contact while the other remains connected. Another advantage of DMC technology is that it may be used with Bluetooth devices from various manufacturers.
Mesh Intercom Technology by SENA:
Sena intended to improve communication among riders by using this way of communication. Mesh technology allows over 30,000 users to join in a group chat simultaneously. Headphones aren't necessary. Bikers may join and leave the group in private talks. The mesh will reconnect when a rider departs and returns to the field.
Design
The Cardo Freecom 4 is distinguished because it is a tiny device that weighs just 1.5 ounces. It's tiny yet substantial, with a network limit of just four users. The whole machine is dustproof and waterproof, making it suitable for harsh outdoor environments.
The user interface is straightforward. Single-button power it, and joining a network with up to three other people is as simple as toggling the button. The only drawback is that the button is difficult to reach. Because the Bluetooth connection is often lost, you may have to pair it many times.
Sena's tiny releases are its most well-known products. The power button is conveniently accessible, and simply propping up the antenna, the complete system may be engaged. To connect through Bluetooth, just press and hold the button to join the network.
Range
Cardo is a unique intercom system when it comes to its communication range. However, its communication range is limited to one kilometer. After a kilometer, you will have some network troubles, and connections will be lost. 
However, the best outcomes are obtained within a one-kilometer radius. On the other hand, Sena intercom systems are more powerful and provide more comprehensive communication options. 
Sena's communication range is such that it adds two miles to your communication range. It improves the communication system's overall performance. The fact that Sena permits an infinite number of individuals to join their group means that it has a connection range of around 5 kilometers.
Sound quality
Sena and Cardo provide better sound than motorcycle headphones stuffed under a helmet. If you like Cardo, you'll notice that their systems use JBL headphones. Cardo's choice to work with JBL has proved to be a successful approach. 
High-end JBL speakers maintain the bike's communication ahead of the pack for audio quality. Cardo is now delighted to be a forerunner in this emerging technology. The JBL speakers deliver excellent sound quality, making listening to music a pleasurable experience. 
Other features include FM radio and intelligent audio mixing. These features may be utilized for up to a mile and simultaneously link up to 15 bikes. There are no audio professionals or trained speakers on Sena's payroll. 
The packers' Mesh network allows them to communicate clearly with one another. Furthermore, the speakers are louder and more accurate than any other intercom. They offer the sense that the person you're chatting with is standing right next to you. 
Vocals Empowerment
As soon as one has gone, one should say 'Hey Cardo' and provide the instruction that will be carried out. To put it another way, the voice command performs precisely what you want it to do without you having to do anything. 'Hey Cardo, play the music,' or 'raise the volume,' for example.
It is necessary to use care while issuing voice instructions since "shouting" might result in voice distortion and incorrect command execution. On newer Sena devices, voice command is also available, and users only have to say "Hey Google or Hey Siri" whenever they need a specific function.
These processes are simple to set up using the smartphone that is linked.
Water, Dust, and Weatherproofing 
Cardo goods are more resistant to the elements than other brands. Cardo's Packtalk range, in particular, is IP67 certified. The number 6 indicates that they are dust-resistant, while the number 7 indicates that they can be immersed in water for up to 30 minutes at a depth of one meter.
Cardo promotes its goods as excellent for jet skiing or other watersports, and they provide a limited warranty against water damage up to a specified amount. Using Cardo systems when cycling in the rain gives you the confidence to do so.
On the other hand, Sena products do not have any waterproof rating, which is a problem. Depending on how much you rely on your helmet, a sudden wind would necessitate either seeking shelter or risking the intercom system being destroyed.
Battery Life
Another vital element to consider while choosing between Cardo and Sena is battery life. Cardo has a long enough battery life so that you may use it for extended periods. It performs well and is ideal for road trips. Its battery life is excellent, and you may readily communicate with your group members without worrying about running out of power.
On the other hand, Sena has a far longer battery life than the Cardo. The Sena intercom can be used for about 12 hours without recharging. It has a long battery life, which adds to its strength and makes it more demanding.
Card vs Sena: Final Verdict
After discussing the devices in the previous section, we can all agree that both the Cardo and the Sena devices are outstanding. In Cardo vs Sena, they both are winners. They'll also cater to the communication demands of various motorcycle riders.
Cardo, in particular, checks all of the boxes: mesh technology, extended battery life, auto-reconnect, and high range. Most of these items are also checked by Sena. It has an unlimited number of users, public mode, mesh technology, and many accessories.
On the other hand, Sena has one fundamental flaw: it lacks a waterproof label. Buying Sena can be a risk if you want to bike in the rain. You may select whether to go with Cardo or Sena by considering your specific wants and preferences.