Every rider needs a helmet, but determining an appropriate budget may be difficult. These high-end helmets may cost thousands of dollars and may not make sense to everyone. It should go without saying that anybody who rides a motorbike often should invest in a high-quality helmet.
Of course, we all want the nicest helmet available, but not everyone can or wants to spend hundreds of dollars on a helmet that may or may not be worth it. However, if you stick to a budget of less than a hundred dollars, you may find some excellent helmets. As a result, we've put up a list of the best motorcycle helmet under 100 dollars for you!
HJC CS-R3 Helmet is one of those great helmets that protect you and give you comfort. The shell of this HJC helmet is comprised of a polycarbonate composite. You won't get as tired from carrying it since it's so light. The shield has a two-stage closing method as well as a locking system.
This helmet has a superb fit and provides UV radiation protection to the tune of 95% via the shield. The shield is anti-scratch, so you don't have to worry about replacing it after little mishaps since it won't be scratched, allowing you to see well. This helmet is worth purchasing since it has an ACS ventilation system.
It contains adjustable vents for ventilation, ensuring that the helmet does not get damp or hot inside. It offers a comfortable inside with cheek padding and an easily removable lining. These are machine washable and dryable. The speaker pockets add to its value by allowing you to pass the time while listening to music.
The Scorpion Exo R320 is a protective full-face helmet. The Exo R320 comprises dual-density EPS, a polycarbonate shell, and a lockable face shield. It offers a comfortable interior for glasses wearers and compartments for speakers. This helmet's face shield has a pin lock and a lens inserted for a good vision of the road ahead.
Ellip-tec ratchet mechanism on the Scorpion R320 helmet. Washable and anti-microbial KwikWick II comfort liners In every weather, their liners keep moisture out and keep us dry. Airflow is sufficient via the exhaust and intake vents. Keep the road ahead of you in full view with a Pinlock-equipped face shield.
For good viewing, the Scorpion Exo R320 includes a comprehensive eye-port. This helmet's ventilation system is aerodynamically designed. It is possible to lock the face shield lever. Eyeglasses are held in place by KwikFit adjustable cheek cushions. These helmets are both light and tough. Its communication system is well-developed.
3. HJC CS-R3 Dosta Helmet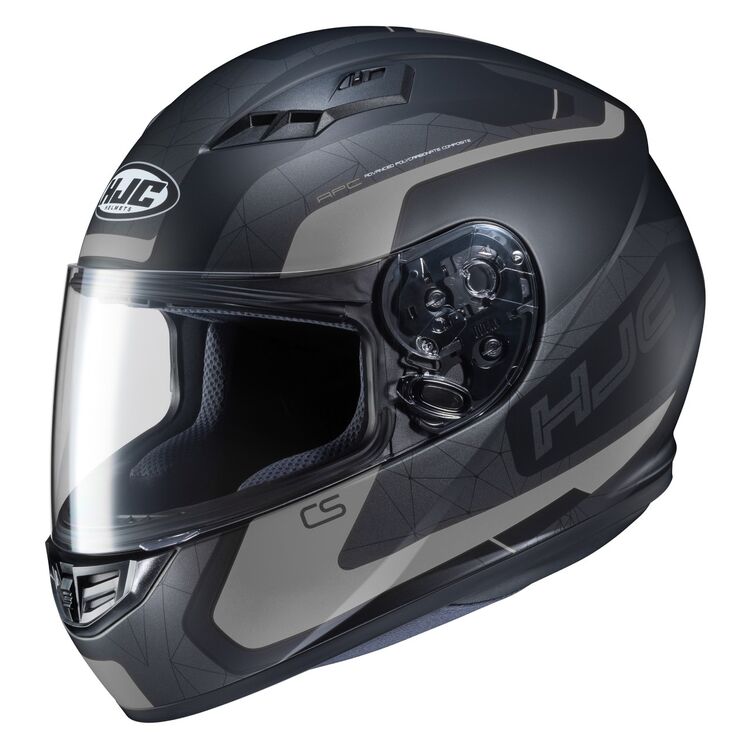 Anti-scratch coating

ACS Ventilation system

Excellent ventilation

D.O.T. Approved.
The innovative polycarbonate composite shell and ACS, which draws air through the helmet, enable the CS-R3 to be exceptionally lightweight while providing excellent ventilation. Furthermore, the RapidFire Shield Replacement System eliminates frustration by making the procedure of replacing shields on the fly simple.
The CS-R3 Helmet from HJC is equipped with premium features but does not come with a premium price tag. It has a lightweight polycarbonate composite shell with innovative CAD technology that provides better fit and comfort. The HJ-09 face shield has a 95 percent UV protection rating and an anti-scratch coating.
It has a two-stage shield closing mechanism and a shield locking system for a very tight and secure seal. The internal cheek cushions and lining are detachable and washable. It features pockets with built-in communication speakers. A dual-lens shield or an electric shield and a breath guard are available as options on snowmobiles.
It is a full-face helmet with a sun visor built into the helmet. It includes a polycarbonate shell to safeguard our heads from harm. Our midi-chlorian count is not increased by using the BILT Force Helmet. This helmet is also cost-effective, with several features to make our journey more comfortable and safe.
This helmet has an inbuilt sun visor to shield our eyes from the harsh sunshine. Thanks to the detachable air-glide comfort liner, our eyes will stay dry, while several vents will keep the air moving at high speed. For chilly days, this helmet incorporates a pin lock mechanism. It has an open and closed ventilation system placed on its surface.
There's also a detachable face shield. The helmet's overall quality is excellent. The lever mechanism has an inside flip-down sun protection. The DOT and ECE have approved the BILT force helmet. With various protective features and an affordable price, this helmet provides excellent protection against injuries.
The Bell Qualifier Full-Face Motorcycle Helmet is a fashionable and sophisticated piece of equipment. Bell Qualifier is one of the helmets that won't be missing from our list of the best motorcycle helmet under 100 due to its widespread appeal. The Bell is an excellent choice for both men and women since it comes in various colors, sizes, and styles.
When you consider that this structure is robust and lightweight, thanks to the use of polycarbonate and an ABS shell, the value of the attraction increases significantly. Furthermore, the Bell comes with a UV-protected, anti-fog, and anti-scratch solution for motorcyclists, making it suitable for weather situations.
The cushioned wind collar adds to this function, reducing wind noise and ensuring your comfort and confidence while you ride. The transparent flip visor may be raised or lowered according to your preferences. It won't annoy or distract you. The top two adjustable vents and the chin vent allow you to shut and open it as needed.
The YEMA YM-831 is an excellent helmet distinguished from the other head protection offered on our page by several features that give it a competitive advantage. First and foremost, this helmet looks great with its futuristic design, but it also has a Bluetooth headset and speakers built into the ear flaps.
The helmet has a robust construction to it, which we would expect from any product made by YEMA. Even though this helmet is DOT-approved for highway usage (obviously), it does not have a visor, a standard feature on racing helmets. There are three color options for you to choose from.
The helmet's inside is detachable and washable, making it easy to maintain and clean. The helmet is comfortable to wear, with just the appropriate amount of "tightness" to ensure it doesn't move about while you're wearing it. If you wish to add your speakers, there are cutouts on the exterior shell itself.
ILM has included the most cost-effective motorbike helmet for safe road protection. The gleaming black headgear has distinct qualities that make it ideal for use with the best motorcycle helmets. The matte black finish allows for long-term exposure to direct sunlight. You won't have to worry about color fading this way!
To begin, the helmet incorporates twin visors, one transparent and the other smoked, providing double eye protection. The helmet includes a robust ABS shell to dissipate energy in the event of a collision, thanks to the lightweight material. The aerodynamic design of the full-face helmet reduces wind and noise.
It enables a quiet journey with no wind or noise to bother you! The helmet incorporates chin, front, and rear vents to allow airflow. This helmet protects you while providing a relaxing ride! The helmet exceeds the DOT safety standard. The most excellent motorbike helmets under $100 are made using this product.
For men and women, the GX11 Compact Lightweight Full-Face Motorcycle Helmet from GLX provides a wide range of options for helmets. It has several innovative features that make it a highly pleasant and safe headgear. Wearing this helmet is risk-free since it meets all DOT requirements.
It's small and light, which adds to the amount of comfort it provides. It has been aerodynamically improved to reduce air drag on the helmet. The impact protection provided by this device is one of the most intriguing aspects of it. This helmet's liners and padding absorb moisture, ensuring that the headgear is fully odor-free.
The comfort and performance of this helmet are ideal for long-distance travel. It also has a one-year warranty. It has an aggressive design that looks stylish and improves impact resistance and comfort. Because it has ventilation panels, it also makes it possible for proper airflow.
Look no further if you're seeking the greatest budget motorbike helmet for the winter. The majority of excellent motorcycle helmets attempted to keep you cool and aired so that you did not feel suffocated. They do, however, keep your head warm in the cold. Apart from that, it has a lot to offer in terms of content.
Its exterior is made out of sophisticated ABS shells. It's important to note that ABS is both sturdy and lightweight. As a result, you can expect it to endure hammering and still perform admirably while also relieving strain on your neck. As a result, improved comfort and protection will be provided when riding.
This variant, like the previous one, features two visors. One visor provides clear vision, while the other provides a smoked vision for those scorching hot days. The unit retains an entirely aerodynamic design that cancels out wind noise to a large extent. It's nearly impossible to believe it's one of the best motorcycle helmets under 100 bucks.
The Yema Ym 926 is aimed to address common user issues concerning modular helmets, such as difficult opening, additional weight, and a low-quality shell, among others. Yema is recognized for offering high-quality helmets at a low price. So, let's see what we find out in our helmet testing.
Yema's YM 926 motorcycle helmet shell is designed to fit the demands of all types of riders. It is made of ABS, which is a lightweight and durable material. The design is sleek and aerodynamic, boosting the rider's confidence. The matte-like coating on the surface of this helmet will help it remain clean for an extended period.
The Yema YM 926 motorcycle helmet has a shell that is intended to fulfill the demands of all types of riders. It is made of ABS, which is a lightweight and durable material. The design is sleek and aerodynamic, boosting the rider's confidence. In every condition, the ventilation system keeps the rider cool and comfortable.
Things To Consider When Buying A Budget Motorcycle Helmet
Here are the ten finest value-for-money motorcycle helmets, each with its own set of qualities for fitting into the best motorcycle helmet under 100. There are specific buying recommendations to consider before selecting an appropriate headwear for your journey if you want to save money on headgear. The following are some of the purchasing guides:
Helmet Shape And Size
There are many different types of shapes and sizes to choose from. One variation merely covers the top of your head like a half-helmet, while another kind protects your whole head like a full-faced helmet. In addition, the form must be aerodynamic. Aside from that, keep in mind that the helmet you intend to wear must, in addition, be an excellent fit for your head.
Comfort And Protection
Comfort is essential when shopping for the finest motorcycle helmets under $100, mainly if you ride often. Look for one with a lot of cushioning for extra comfort. The cushion also provides impact protection for your head. To reduce discomfort, it disperses the impacts throughout the helmet. As a result, we suggest purchasing one with a soft and dependable lining.
Certifications
To avoid any humiliation from traffic officers, be sure that the Department approves your motorbike and its attachments of Transportation or SNELL. The permission from the Department of Transportation, on the other hand, takes precedence over other types of approval. The SNELL approval procedure is complex, demanding, and time-consuming. For DOT approval, obtain the minimal safety criteria.
Visor Quality
It's just as essential to safeguard your eyes as it is to your head. Visors are designed to keep debris out of your eyes while on the road. Some helmets come with dual visors, while others offer a variety of visors to choose from. Fog, UV radiation, and scratch resistance are all features that specific visors have. Checking the number of visors available on the helmet is an important consideration.
Aerodynamics and Breathability
When you're riding, your helmeted head must get adequate ventilation. Furthermore, you must be able to breathe comfortably, freely, and without difficulty. Clean oxygen must also be inhaled. A helmet with an excellent ventilation system is sometimes used to provide air. The helmet mustn't be too snug or too loose.
Sturdy Shell
Your helmet's exterior shell should be composed of durable material. In the case of an accident, this will safeguard your head from significant harm. The outside shell of certain companies' products is made of thermoplastics. Fiber-reinforced composite helmets are also available.
Interior
When you collide with another car, the inside plays a critical function in protecting your head from injury. Dual-density EPS liner, multi-density EPS liner, conventional foam, laser-cut foam, and polypropylene are numerous kinds of internal liner used by helmet manufacturers.
Warranties
When purchasing online, it's critical to have a warranty. It's a nice thing to be able to return a helmet if it doesn't fit as well as you thought it would. A decent warranty may also assist if anything goes wrong with it or if you're not happy with the item.
Full-Face or Half-Face Helmets: Which is Better?
As a rider, it is up to you to decide what is most important to you. We recommend full-face helmets if you prioritize safety and protection. On the other hand, a half-helmet is the way to go if you have a flair for wind and staying cool. You should learn more about the kinds of helmets in the ultimate guide.
Why does my headache after a time of wearing my helmet?
If your helmet is overly tight, it might damage your head. It is frequent with small-sized helmets that don't fit properly on your head, but you may be able to push it in. A helmet has to fit snugly. It will pain and maybe cause harm if you do not do so. Consider switching to a better-fitting helmet.
Is it true that motorcycle helmets have a limited lifespan?
Helmets have a finite lifetime since the resin and other materials used in the production process may be harmed by your body fluids, hair oils, UV radiation, and regular wear and tear over time. It is recommended that you replace your helmet after 5 years or 7 years from the date of purchase.
Is scorpion a reputable brand of helmets?
Scorpion produces helmets that have been tested and authorized by the FIM for use in MotoGP and helmets that have been Snell approved, so you can be sure that a Scorpion helmet will provide good protection in the event of an accident. Look at these Scorpions; they're the best of the best when it comes to safety.
What is the best helmet certification?
Snell accreditation entails more stringent and thorough testing, implying that it is the superior motorcycle helmet standard. ECE certification is the most recent current standard, and it is accepted in the majority of nations. ECE testing and regulations are more stringent than those of the DOT.
You can confidently choose the best motorcycle helmet under 100 dollars for you with all of this information. Make sure you measure your head many times until you receive consistent results. Don't rush into making a decision; this is a long-term purchase, so take your time. Examine the ones we've evaluated and refer to our Buyer's Guide as required.