Are you thinking about getting a motorcycle helmet? Motorcycle helmets are built to keep you safe in a collision. On the road, it provides the most crucial safety element. As a result, a rider should invest in the best-fitting bike helmet that money can buy. Buying a helmet requires extensive study to comprehend the many aspects.
Measuring the circumference of your head is the most common way of determining helmet size. Choose the right size since you don't want to spend a lot on a helmet that doesn't correctly fit and is painful to wear while you're traveling at high speeds. We'll break down the following crucial factors in our motorcycle helmet size guide:
Step 1: Recognize Your Head Shape
Before deciding on a helmet size, the form of the helmet is the most crucial factor to consider. When it comes to choosing a motorcycle helmet that fits correctly, the form of the rider's head is vital. Helmets are designed to suit a particular head shape by all manufacturers.
Long Oval: Your head's front-to-back length is much bigger than its side-to-side length. When getting your head measured, keep this in mind to see whether you need a new helmet.
Intermediate Oval: Your face is significantly longer from side to side than from top to bottom. It should be taken into account while determining the size of your head for a bike helmet.
Round Oval: Your head is somewhat larger from top to bottom than from side to side, giving it an almost round appearance. When measuring your head for a motorbike helmet, see whether it's shaped like this.
Once the rider's head shape has been identified, it is much simpler to narrow down the vast array of motorcycle helmets available to a smaller, more suitable list of those that will fit the motorist's head. It's now time to discover the proper motorbike helmet size.
Step 2: Motorcycle Helmet Sizing
There are two methods for determining your helmet size. You also may try it on or measure your head to find out what size helmet you need. To acquire an exact measurement of your head size, gather a tape measure, a piece of paper, and a pen.
Using a tape measure, measure around the largest region of the head or the forehead area immediately above the ear.
You should measure your head circumference by placing a tape measure one inch above your brows or placing it in a position that provides the widest measure.
Make a note of your measurements in centimeters and inches, then use the sizing table to determine the best helmet size for your head.
Keep taking mind that the size standards utilized by various types of helmets are varied. Because of the thickness of the shell and the inside padding, the same size medium helmet might fit differently.
Step 3: Determine the Helmet Fit
When you initially put on a motorcycle helmet, it should fit snugly but not so tightly that it hurts your head. If the helmet is overly loose, it might cause irritation and discomfort to your head and face. The helmet will loosen up with time as it adjusts to your head shape. However, it should not become slack enough to allow you to wobble your head from side to side.
Wearing a helmet:
Put on the helmet; it may feel a little snug at first.
The helmet should be equally distributed on your head. If the helmet is twisted from the top, your head should move. If the helmet slips easily, it's too loose.
Adjustable cheek pads are available on certain helmet types for a better fit. Check for accurate sizing here.
Finally, choose a color and design for your helmet. To maximize your visibility, use a brighter shield. It would help if you only used the tinted visors on sunny days, and the face shields should not obstruct your eyesight.
Step 4: Motorcycle Helmets Types
Motorcycle riders have never had such a wide range of helmet options. While having a plethora of options is a fantastic thing, it may be challenging to choose the ideal one. Before making your pick, you should know the following five fundamental kinds of helmets. Regardless, there are a variety of options available to you:
Motorcycle helmets are available in various forms and designs, each with its own set of features to meet the rider's demands. Some riders prefer full-body protection, while others choose a minimalist strategy that permits them to ride lawfully in places where helmet restrictions apply.
Helmet Size Guide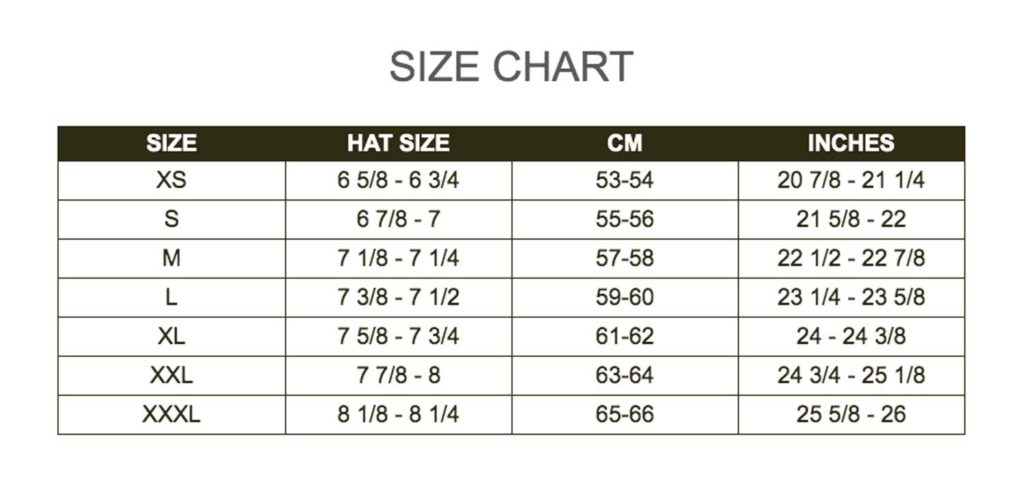 Buying a helmet
Depending on your head size, you may now purchase a helmet, regardless of online or in person. If you're purchasing it offline, a sales staff may assist you in finding the proper size helmet for you. You may also try other sizes to find which one is the best fit.
Your present helmet may not fit your head correctly if you purchase one online, but if that's the case, you can choose to switch to another one. In addition, be sure that your head is not subjected to excessive pressure from any one area. Sticking to the following bike helmet size guide should assist.
Alternatively, if the hat is too loose, you may put an inside lining to make it tighter around your head. Regardless of your helmet size, getting the right-sized helmet is required by law and necessary to ensure your safety.
Why Is It Crucial To Get A Helmet That Fits Properly?
Full, modular, or open-face helmets all protect a rider's head from injury in the event of an accident, and they are the most crucial piece of protective gear they may have. The rider's safety is likely to be jeopardized by a too-small helmet.
During an accident, a too-big helmet for the wearer's head may come out, resulting in the wearer not receiving enough protection. A helmet that is too tiny, on the other hand, is likely to cause pain and annoyance when riding.
The helmet must be perfectly tailored to the structure of the wearer's head to assure both safety and driving comfort. As a result, a decent helmet should neither be excessively large nor too small.
Conclusion
A well-fitted motorcycle helmet makes for a more safe and more enjoyable ride. The comfort and protection of a motorcycle helmet depend heavily on the helmet's ability to fit the rider correctly. If you spend enough time looking for the proper helmet, you'll notice that it nearly vanishes while you're wearing it, but it's exactly where you need it if anything goes wrong on the ride.