You know what, riding a motorcycle is a lot of fun until you get into a bad accident. Please forgive us for dampening your enthusiasm. According to scientific research, it might be tough to find a comfortable helmet and safety if you have a rounder head.
It's fair to presume you already have a helmet, but it doesn't fit properly due to your head shape. Finding a good fit, especially for round heads, is like a dream come true.
As a result, we decided to narrow down the best motorcycle helmet for round skulls from all of the popular options and write a review for each. That's all we're doing to keep you safe from major injuries and keep you comfy throughout all those late-night excursions.
Don't worry. We've put up an in-depth shopping guide to help you determine the must-have characteristics and get the best gear for your beast.
We've put up a list of 5 top-rated motorcycle helmets that are specifically designed for round heads and other safety concerns.
1. Biltwell Lane Splitter Helmet
The exterior shell is made of injection-molded ABS with a hand-painted finish.

The inner shell is made of expanded polystyrene.

An ear recess with audio compartments is hand-sewn into the detachable brushed Lycra lining, which is contrast diamond-stitched to the quilted open-cell foam cushioning.

The chin curtain is included.
The helmet is extremely noisy. 

The vent is huge, and water comes through it when it rains.
The Biltwell Lane Splitter is inspired by the 1970s stig style that has gained popularity in recent years thanks to riders like Rusty Butcher. The Lane Splitter has a polycarbonate shell, hinged face shield, detachable comfort liner, and Biltwell's famed color selections and is made from the same high-quality materials as the Gringo and Bonanza helmets.
With a shock-absorbing EPS lining, hand-stitched inner padding, cheek pads, and a BioFoam chin bar cushion for comfort, this helmet is built around Biltwell's patented ABS outer shell. The chin bar has several vents that allow air to circulate freely, while the rear outlet allows hot air to leave. 
For high style and easy removal for replacement or cleaning, the Lane Splitter shield has very precise optics and simple hinge mechanics. On the left side of the shield, a brass peg and hole design allow for quick opening and secure shutting with minimum fuss or difficulty. The ear recess has mesh pockets, which are ideal for most aftermarket drop-in communication devices. 
Features: 
Safety: The Biltwell Lane Splitter is constructed of a polycarbonate ABS shell with a urethane chin bar, according to Biltwell. That is, once again, a plastic chin bar. 
Ventilation: Those nice-looking chin bar vents do exactly what they say on the tin: they keep the parts of your face behind them cool. And they keep you cool no matter what the weather is like since they're always open and can't be closed.
Shield: That Face Shield handles all the essentials quite well – it protects you from dirt and rain, and since it's a polycarb shield, it also provides 95 percent or more UV protection. 
The specially-shaped contour of the aperture on the GT4 face shield offers increased peripheral vision.

The integrated drop-down Sun Visor (ISV) is scratch-resistant and replaceable without the need for special equipment.

Breath deflector that can be removed

Windproof chin strap that can be removed

The sterilized 3D inner lining and cheek pads are fully detachable and washable and are composed of Dry-Comfort materials.

The base of the helmet has been modified to lessen the danger of collar bone injuries.
The sunshade could have been better and wider.

The helmet is too noisy.
The AGV K3 SV Helmet is based on AGV's significant expertise with the Pista GP and Corsa helmets, as well as the original K3 helmet's history. An aerodynamic shell form with an integrated, small rear spoiler reduces turbulence and is intended for stability and aggressive looks. The helmet's short chin bar is streamlined to assist it in cutting through the wind at high speeds, improving stability even further.
The AGV K3 SV helmet has a drop-down sun visor, making it a show-stopping, aggressive street or touring helmet. The K3 is also equipped with speaker pocket cutouts, which reduce the pain caused by Bluetooth speakers rubbing on your ears. The AGV K-3 SV Helmet is a fantastic option for any rider who appreciates stylish, contemporary design in a safe, feature-rich package.
Features: 
Shapes and Material: The exterior of the helmet is constructed of polycarbonate, a lightweight and durable thermoplastic. This helmet's medium-large size weighs around 1.49 kilograms, or 3 pounds and 10 ounces.
Comfort: In terms of comfort, this helmet will score a lot of points for us. This helmet is well-equipped to keep your head comfy and cool, with a lightweight outer shell, good ventilation, and high-quality cushioning and padding on the inside.
Visibility: The increased visibility of the K3 SV over the original K3 is another benefit of upgrading. The anti-scratch and the anti-fog exterior visor keep your vision clean when riding. This helmet's breathability is good for keeping the visor free of fog. 
The Arai Quantum X Helmet is the only one with the VAS (Variable Axis System) shield and side pods.

For fast and easy face shield removal, use the dual function lever to remove both the side pod and the face shield.

The VAS shield latch mechanism grabs and maintains the face shield closed while also providing a de-mist position where the shield may be gently cracked open.

Thanks to the accompanying Pinlock insert, the VAS MAX Vision face shield gives outstanding visibility in all seasons.

The neckroll is detachable and contains extra exhaust passages for removing heat from the cabin.

Clear Pinlock insert is included.
The helmet is noisy. 

The helmet gets fogged up very quickly.
Since the beginning, Arai has been identified with quality and defensive technology, and Quantum X continues to push the boundaries, demonstrating why Arai is at the top. The Quantum series has always been the go-to helmet for riders with a more rounded head shape, and the Quantum X continues this trend with its balanced length and small extra breadth. The Quantum X may also be adapted to accommodate people with an intermediate oval head shape by simply installing a Corsair X headliner.
The Arai Quantum X Motorcycle Helmet has a chin curtain that helps to reduce air incursion from the turbulent air underneath the helmet while also increasing negative pressure to improve exhaust ventilation. Arai's distinctive 5mm peel-away ear pocket padding and ear pocket recess are included on the internal lining to accommodate communicator speakers.
Features: 
VAS Shield System: A lower shield pivot prevents the shield from opening or closing. VAS (Variable Axis System) (moving pivot point). Compared to the RX-Q, this permits shield opening and closing with a 24mm lower shield mount.
PB-SCLC Shell: Arai's unique Peripherally Belted – Super Complex Laminate Construction shell design combines numerous materials and processes developed in-house to provide both performance and value.
Arai's Proprietary Liner: Arai's exclusive liner system has an odor-resistant substance, a softer liner material, and adjustable temple cushioning for a unique fit.
4. Biltwell Gringo S ECE Helmet
The outer shell is injection-molded ABS with a hand-painted finish.

The inner shell of expanded polystyrene

BioFoam chin pad with hand-sewn contrast stitching on the inside

D-ring neck strap made of plated steel with an adjustable strap end retainer

Eye-port shield made of injection-molded, laser CNC-cut polycarbonate with attractive, robust aluminum hinge covers and mounting hardware

Shell and eye-port have rubber or chrome accented edging.
The helmet is quite noisy.
The Biltwell Gringo S ECE Helmet is made up of an injection-molded ABS outer shell with a shock-absorbing EPS lining, hand-stitched inner padding, cheek cushions, and a BioFoam chin bar cushion for added comfort.
For bike riders who want to avoid the feature creep that has afflicted contemporary full-face helmets for decades, a hinged eye port shield elevates the Gringo S's appearance and function by infusing 70's F1 flavor. For great style and easy removal for replacement or cleaning, the Gringo S shield has outstanding optics and simple hinge mechanics.
With minimal fanfare or complexity, a snap and tab design on the rider's left side allows for quick opening and secure shutting to protect the user from road debris and wind discomfort. Speaker pockets allow you to plug in your preferred communication device and converse with your friends or just listen to music.
Features: 
Safety: The shells of both Biltwell Gringos are composed of ABS, a thermoplastic polymer similar to that used in many helmets. They've been DOT-certified for usage in places where wearing a helmet is required, so they should provide enough protection.
Ventilation: In the Gringo, there are just two ventilation holes: one enormous hole in the front where the shield fits and another big hole where your head goes. Aside from that, there aren't any vents.
Comfort and Sizing: As a result, it has a somewhat rounder helmet fitting, which makes it very neutral and suited to fit most heads.
5. Shark EVO One 2 Helmet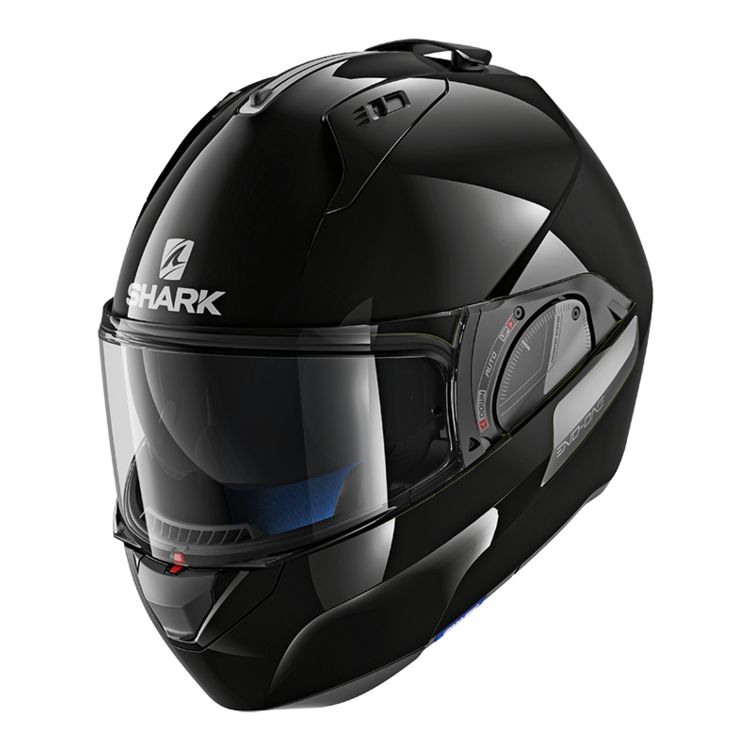 The chin curtain's magnetic latching has been reinforced.

Aerodynamic profile that is compact

Noise reduction in the air

Design of a new side plate

Chin buckle with two D-rings

A built-in chin curtain

Max Vision Pinlock insert lens is compatible with eyeglasses and is DOT and ECE approved.
The cheek pads might be uncomfortable for you. 

The helmet is noisy after KM 110.
The Shark EVO One 2 may be used as a full face or open face helmet with a fast flip of the chin bar, much like the Bull Shark can exist in both salt and freshwater. Because most chin bars do not adjust to your demands like the Shark EVO One 2, other modular helmets may as well be bottom feeders. 
The chin bar on most other modular helmets merely flips up to capture wind and put the helmet off balance. The chin bar of the EVO One 2 flips from front to back, keeping the helmet's weight low and the chin bar out of the path of wind gusts.
In contrast to the preceding Shark Evoline 3 ST's single shell, the injected thermoplastic resin shell comes in two shell sizes for a better-personalized fit.
Features: 
Safety: The Shark Evo-One 2 has been DOT, and ECE approved, as well as safety tested, by the SHARP helmet testing laboratories in the United Kingdom — while neither has been Snell certified. It received an exceptional four out of five ratings for safety from SHARP.

Ventilation: A single outside chin vent with a huge toggle switch to open/close it provides chin/shield ventilation. There's also a vent on the inside of the chin guard that directs air either towards the shield for defogging or away from the mouth. Warm air leaves the helmet through an exhaust below the spoiler on the top of the helmet, and two crown vents on the top of the helmet are separately opened and closed by little sliders.

Shield: It comes with a Pinlock Max Vision-ready shield, as well as a Max Vision. Pin locks are one of the finest methods to keep your shield fog-free, which is great.
Things To Consider Before Buying Best Motorcycle Helmets for Round Head
There are a few factors to consider while shopping for the finest motorcycle helmet for a round head. In fact, we recommend that you do your own study and identify your goals first.
One thing you should avoid is buying anything just on the basis of its price.
This isn't even all that important. What matters is that you choose the safety features. Keeping this in mind, we've included some of the most important considerations that will assist you in selecting the best helmet for your specific requirements.
Certification
The first thing you should check is if your motorbike helmet meets or exceeds DOT safety regulations. The DOT has taken steps to ensure that all motorcycle helmets sold across the globe have been tested. It's almost like a safety message for each helmet.
Also, search for a stick on the exterior of your helmet that says "DOT" in big letters to see whether it was originally DOT certified. This sticker may be seen on practically every bike helmet. If it isn't, there is no way you should buy it.
Visibility in the Field
Many motorcycle helmets come with inexpensive visors. It obstructs your eyesight and might lead to major accidents. As a result, it's critical to opt for a helmet with a see-through visor to ensure that you have a good vision of the front and sides.
Second, it must be simple to set up, delete, and replace. Because the visors normally don't survive very long, you may want to try the smoked ones or anything more capable.
A helmet with a detachable shield would be ideal in this situation. Also, check if the visors are washable so that you can maintain them free of dust.
Another thing to consider is that, although this is really an optional function, if your visor is compatible with goggles or sunglasses, the protection will be amplified even more because it will protect you from insects and contaminants in the air while you are riding.
Size of the Head
The helmet you choose must fit your head size and shape. We'll stick to the ones that are suitable for round shape heads exclusively since we're focused on round shape heads today. Before choosing the size parameters, be sure you verify the size requirements and measure your head size.
When it comes to head size, it's also important to consider how well it fits and feels. Although safety should always be taken first, comfort is an important factor in making your travel memorable.
Look for the ideal fit, which isn't too tight or too loose. It should be stiff enough to maintain its shape. Also, it shouldn't be so tight that it makes you feel claustrophobic.
Aesthetics 
You can't dispute that you care about appearances, even if it's only your helmet. And it's only natural to want something stylish and distinctive that complements your individuality.
As a result, you should consider the overall design, style, and color scheme. There are helmets with solid colors and no designs, for example.
Some helmets, on the other hand, feature graphical designs and come in a variety of colorful colors.
Both are OK as long as your choice is defined. You may even do it yourself if you purchase a simple matte black helmet and want to add graphics later. So, when it comes to hunting for graphical helmets, there's no need to be too harsh on oneself.
And, since the style or appearance has no effect on the helmet's safety, you may place a premium on this element.
System of Ventilation
Ventilation is vital, but it is not required for safety. It is, in fact, necessary for your comfort. As a result, if you want to be comfortable, a helmet with a good ventilation system is necessary.
This will guarantee that the heated air outside is repelled and that the fresh cool air within is inhaled. Your helmet's inside atmosphere will eventually become sweat-free, breathable, and odorless.
Straps for the chin
It's critical to have a quick-release chin strap because it keeps the helmet stable around your head. A chin strap that isn't properly adjusted may break apart during races, but a good chin strap will always remain in place.
Variants and Prices
Of course, cost should not be your only consideration. It's a good idea, though, to seek a helmet that provides you the most bang for your money. Simply ensure that your money is properly spent by obtaining all of the aforementioned features at a reasonable cost.
We hope you were able to make it all the way to the conclusion. Thank you for staying with us through this. This page represents the finest motorcycle helmet for round heads based on a variety of safety requirements. We have invested a significant amount of time and effort into this project. If you have any questions or queries, you can ask us in the comment section. 
Ride Safely!